Oil Changes, Tire Rotations and More Are All in a Day's Work for the Franklin Ford Service Department
Proudly Serving Drivers from Franklin, MA; Attleboro; Woonsocket, RI; Milford, MA; Bellingham, MA; & North Attleboro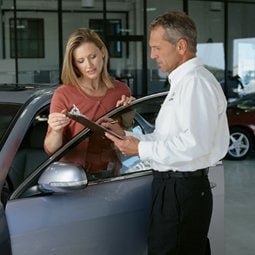 Get the best quality service for your Ford vehicle at Franklin Ford
Servicing your vehicle can be a real hassle at times. Between finding a shop that has the right parts and properly trained staff, setting an appointment that doesn't interfere with your schedule, and often being left in the lurch without a vehicle for however long it takes them to work on your vehicle, it can be all too tempting to just give up on the whole endeavor. But servicing your vehicle is crucially important to enjoying the best quality of ownership and extending its overall lifespan, which is why we here at Franklin Ford strive to make your car care easy and painless through our dedicated Ford service center.
Staffed with highly trained Ford technicians and stocked with plenty of genuine Ford parts, our service center is well-equipped to handle everything, from regular maintenance like oil changes and tire rotations, to bigger jobs like replacing worn down parts and recovering from the occasional fender-bender. Our technicians have extensive experience with Ford vehicles, from the newest Ford models, to the tried-and-true models of yesteryear, so they've got the tools and know-how to perform even the most complex maintenance on whatever rolls into their shop!
Now, as we said above, we want to make your service experience as painless as possible, and that means no more waking before the sun rises or ducking out on your lunch hour to make a service appointment. Our service center provides evening and Saturday service to help make servicing your Ford vehicle work with your schedule. Best of all, we also offer some great service specials and coupons to help you get the service you need at a great value!
So, take the stress out of servicing your Ford vehicle! Schedule your service appointment today via the form below, or stop in to our service center at Franklin Ford today - proudly serving drivers from Franklin, North Attleboro, Milford, Bellingham, Attleboro, and Woonsocket, RI!