Maintain the integrity and performance of your Ford vehicle with genuine Ford parts from Franklin Ford - Serving Franklin, Attleboro, Milford, Bellingham, North Attleboro, and Woonsocket, RI!
Whether you're a new Ford vehicle owner or a loyal fan who has owned many Ford vehicles over the years, you're probably pretty familiar with the high standard of quality that's signature to Ford. How does Ford achieve such epic standards? Well, it all comes down to parts.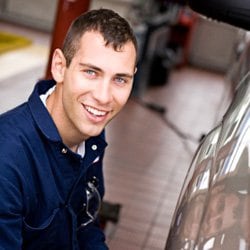 Yes, genuine Ford parts, the individual components that make your Ford, well….a Ford. It may seem simplistic, but genuine Ford parts deliver that inspiring performance and high standard of safety that have drawn so many to the Ford brand over the years. Genuine Ford parts among the most rigorously tested in the industry for a number of reasons. These parts are put through a battery of tests to ensure not only their individual integrity, but also their integrity within the systems they're designed for. Everything from the smallest electronic component to the largest piston is run through the gauntlet time and again, ensuring that it will hold up to years of use at full capacity, and perform exactly as you need it to, when you need it to.
We here at Franklin Ford stock only high quality genuine Ford parts to ensure that our customers vehicles maintain their integrity throughout their usable lifespan. So, if you're looking for a replacement part for your Ford vehicle, we'll be only too happy to provide you with it. Simply fill out the parts request form below and you can have your new genuine Ford part shipped to you or available for pickup at our Franklin, MA dealership. We even have a part specials page full of the latest equipment that you can get at a great value!
However, we realize that not everyone is an expert on the exact parts they need for their Ford vehicle, which is why the talented Ford technicians in our service center are well-equipped to help out with all your Ford parts and accessories needs. Feel free to schedule a service appointment online today. Our service technicians are proud to serve the Franklin, Attleboro, Bellingham, Milford, North Attleboro, and Woonsocket,RI areas with the best in quality genuine Ford parts!